CONVENIENT USE TIPS
Your freezer is one of the most helpful appliances in your home. It can help you eat more nutritionally, save money, and free up much of your cooking time while providing easy fast lunches for work, school, or a quick everyday meal.
Here are a few helpful tips:
Double (or triple) your batches of all of our  recipes, such as soups, muffins, snack bars, rice pilafs, chili, turkey, or chicken patties and freeze in resealable bags or hard-shell containers.
Need to grab a quick snack on the go? Freeze your  snacks such as granola bars, muffins, and cookies and take any of these to work or with you to your exercise schedule. If it's nutritional, you really can have your dessert and eat it too – without feeling guilty.
Portion leftovers into individual sizes or for family sizes for quick, nutritional meals at home.
Frozen meals are just a thaw-away from being a nutritious meal at any time of day. You can then pick your lunch from your freezer for work or school the evening before and take with you for your lunch and for coffee break snacks.
After you have baked your  breads, slice bread and package. Keep it in the freezer and use by the slice to keep your bread fresher, longer. Or, cut the loaf in half. Use half now, and freeze the other half for use later.
Keep over-ripe and peeled bananas in the freezer to use in recipes or as healthy additions to muffins or oatmeal.
Helpful Hints for Freezing Your  Recipes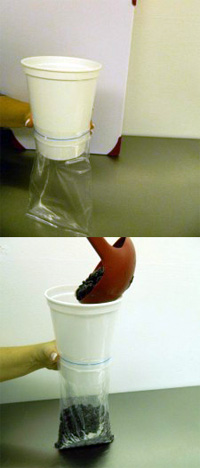 Portioning out the leftovers from your recipe or even from a second batch of 
 Recipes is a cinch:
Have some resealable bags with minimum 5 inch opening available. If you don't have a food funnel, cut-out the bottom of an empty plastic container (like a yogurt or cottage cheese container) and fit into resealable bag then fill.
Use it as a funnel by slipping the narrow end into the mouth of the bag and holding tight resting the bottom of the bag on the table.
Ladle-in your soup or leftovers quickly and easily. Close and label the bag with your recipe and lay on a flat surface in your freezer. (Note! Do not put your product directly on your freezer grates within the freezer without putting a flat surface under the package as the packaged product will freeze around the shelving and will be difficult to remove when frozen).
Space-Saving Tips:
When filled with food, lay resealable bags on a flat surface in the freezer
Stack horizontally, or when frozen, re-align to vertical for ease of storage and availability from your freeze. You can even categorize your  recipes in your freezer i.e.; snacks, soups, dinners etc. or use color coded bags or labels.